Learning the Ropes with John Fox and Sue Gill, Cumbria, May 2015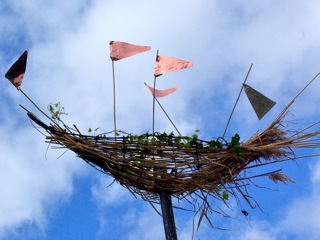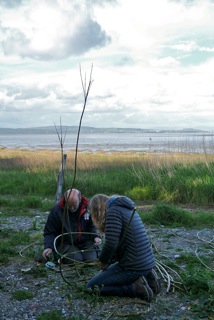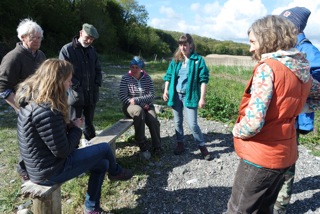 In May this year, I was awarded the ACE bursary for emerging artists to participate in the Wildernest Programme, which meant acting as production assistant and participant in a new environmental arts course called Learning the Ropes. The course was led by two heroes of mine: John Fox and Sue Gill, artists, performers, writers and founders of the legendary Welfare State International –a pioneering theatre company famous for spectacular and meaningful outdoor events. If you haven't heard of them, go and look at the website and immerse yourself. The course took place in John and Sue's self-build eco home and studio: the Beach House, a ship of creativity perched on the edge of the sand in Morecombe Bay, Cumbria.
The experience of learning the ropes felt like a transformation from one state to another and everything that happened to me was deeply interconnected with the other participants, including the work I produced. We ended up creating a series of installations on the beach with a performance / ceremony to link it all together. My piece was based on the Sealskin myth with a boat made of recycled washed-up plastic and a set of pan-pipe figures that played the notes of a seal-calling song from Orkney, which I taught to the willing participants who sung it in perfect harmony with me! I also helped one of the participants, Ninian Stuart to create a huge hazel and willow basket on the beach.
Why Are Ye Troubled?
Easter Exhibition Art and Soul at St Laurence's Church, Falmer near Brighton, April 2015. A 11 ft high willow sculpture covered in golden blooms of Forsythia and Furze.
The idea of the piece was the desire to make a meditation space that felt protective and holding. This came about from reading the Easter bible passages from the different gospels and being moved by the way in which the risen Christ said "Why are ye troubled? And wherefore do doubts arise in your hearts?" to the startled, grieving disciples. I felt that I would like someone to say something as direct as this to me when dealing with grief of any kind, but I would also need to be held in a safe space to cope with it. I was also inspired by the detail of Mary Magdalen mistaking Jesus for the gardener. It is an exploration of grief, the resurrection and the desire to be enveloped by love.
The making of this was a journey itself. The willow came from a site managed by a friend of mine who runs a women's retreat space called the Brighton Red Yurt - part of the Red Tent movement, which has helped me enormously over the last year. I also experienced many extraordinary moments of kindness and generosity, such as when I knocked on the door of complete strangers on my street and found them willing to cut so much forsythia for me I couldn't carry it home in one go. I also had many challenging and interesting moments where I had to confront the fact that this piece of art is itself dying. I had a request that flowers look happy for a particular church event during the easter exhibition period, but, but of course the blooms dried up very quickly and the forsythia blooming period came to an end. I tried to create a moss graffiti element to the piece, but it did not grow in time and I don't think I got the ingredients quite right. I also wanted to light the candles at particular moments, such as when my friend and photographer Aniko Boholy was doing a shoot for me. Exremely high winds and my van dying at a critical moment thwarted this plan! In the end, different people saw very different version of the sculpture. The responses were incredible. The one that moved me the most was when a man spent some time inside it while I was there and then talked to me at length about his wife who had died a few years ago and who had loved art.
Fish
An exploration of autumnal myths about floods and oceans, the aquarium-like quality of Cotswold Beech woods and a celebration of autumn's colours. A giant lantern made out of hazel rods and many, many leaves sewn (!) together.
Wimbledon Common, 27th- 28th October 2014. Children's Art School organised this fantastic wild art half term course where I lead 18 enthusiastic youngsters in creating a Samhain-inspired outdoor art installation. We created 'drawings' of animals out of Hazel and Rowan (to release trapped souls), tree spirits out of mud and a spooky giant spider. Visitors to the exhibition walked through a veil of leaves that transported them to the other world... Read the blog all about it here: