Women of the Woods Retreat, Sussex, June 2015, 2016 and 2018 dates soon to be announced!
Women in the Woods is a weekend retreat in the Ashdown Forest designed for wilderness loving women, to take time out of every day life and draw replenishment and inspiration from the woods. The pilot weekend held in June this year was a a stunner: 10 women gathered from as far as Norway and Berlin, offering their energy, wisdom and generosity. See what our participants said below and Email me to be put on the mailing list for our 2016 adventures which may also include a Women of the Woods in Berlin!
Women of the Woods is Led by wild artist and ceremonialist Philippa Snell, and women's embodiment and empowerment coach Ruby May.
The fabulous weekend included:
guided sensual nature meditations
Foraging for materials in the forest to create wild art and wild jewellery
nature constellations
Sacred raw cacao campfire ceremony
Wild food foraging
Lush group harmony singing and improvisations
Accommodation in the beautiful and tranquil Dernwood Farm campsite and locally sourced organic food provided by Wild Daisy Catering.
I am still reeling from this extraordinary weekend. Thank you Philippa and Ruby! Frances, London
I perceived you and your learning as very gentle and sweet, and also with a very strong sense of inner calm and strength. I have to say that after that weekend in the forest i felt really nurtured from the inside out, you showed us a side in you and reflected in us, what I think many of us feel is not valued enough, the gentle, tender, yet strong feminine energy that longs for nurturing and acceptance.

It was so beautiful and sweet, almost etheric at times, and I released (I know I shed some tears) a lot of tension in my body, mind and soul. What just a couple of days can do! I loved the combination of shamanism, nude yoga, forest play and singing. Just perfect. Elisabeth, Norway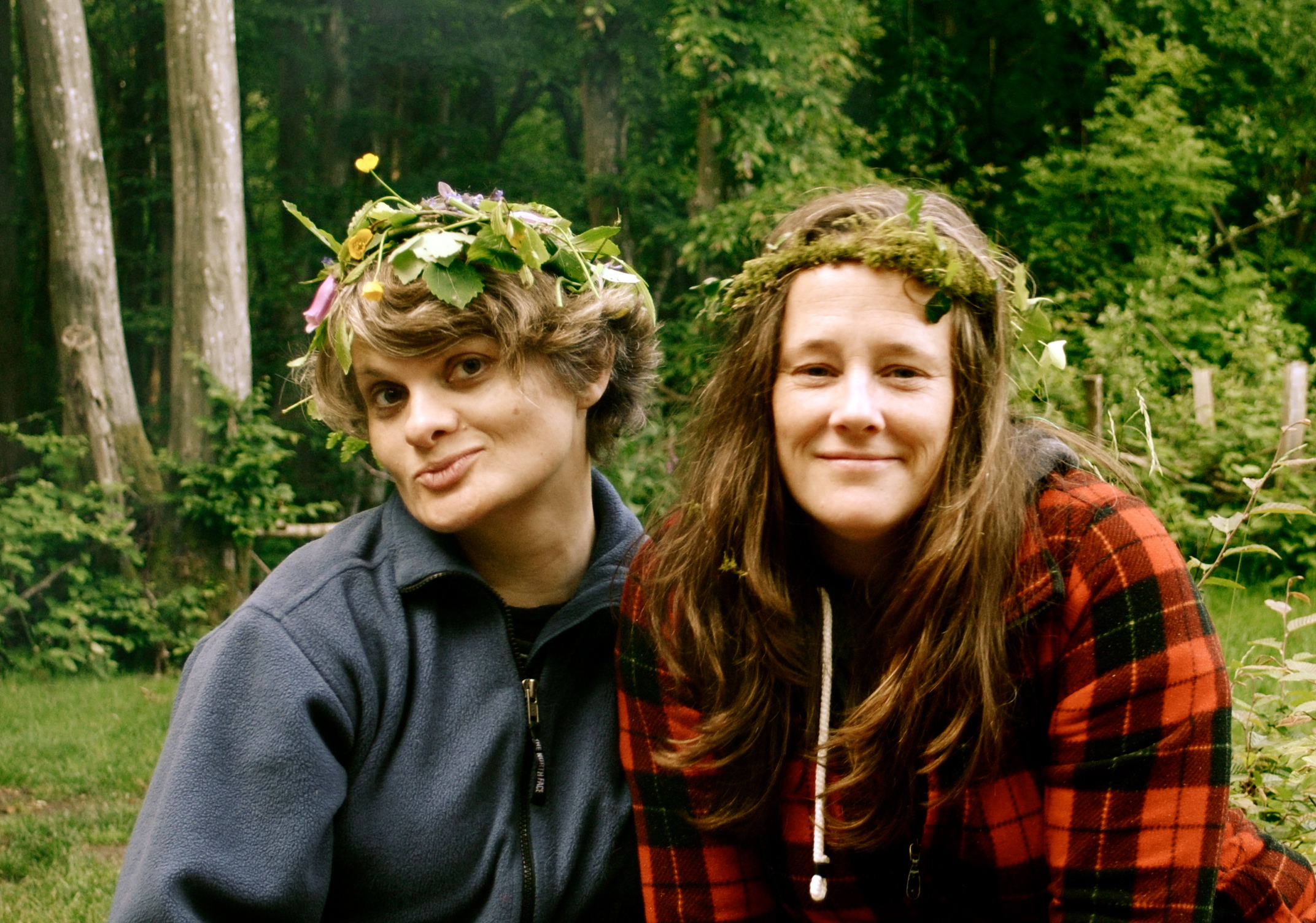 "Those who dwell among the beauties and mysteries of the earth are never alone or weary of life." - Rachel Carson.
Ruby May is an edge-dwelling, earth loving, creative visionary whose international workshops and rituals weave her passion for play, embodiment and authenticity with her love for creating magical and transformative spaces. She has studied and explored many paths to healing and expansion, including yoga, tantra, conscious kink, ecosexuality and spiritual ecology, and worked as sexological bodyworker and intimacy coach, before stepping into facilitating groups, full-time.
Ruby believes that our relationship to nature and our own inherent 'wildness' is central to our spiritual and physical well-being and she has a passion for exploring creative ways in which to practise this. Two powerful tools that she feels inspired to share at Women of the Woods, are working with nature constellation, in which we can become channels for earth wisdom, and working with the sacred plant medicine raw cacao, which contains a gentle yet powerful plant spirit, that supports us in creating a deeper connection to our self and our planet. For more information about Ruby's work, see her website here.
Why Women? Why Woods?
When Philippa started training as a forest school practitioner and described the process to friends, she noticed that women kept saying how much they would like to be a participant in my sessions. Many women expressed a deep urge to connect with nature and also a desire to learn some of the bushcraft / creative skills that allow the individual to explore their innate responses to the world. From these conversations, many themes came out: responding to seasonal changes, exploring the idea of community, making wild art and the empowerment of learning how to survive (if civilisation collapses!). Why women only? Well, from my experience, when there are men and women around, it can become very hard to avoid falling into gender stereotyped roles. Quite simply, I don't want anything to get in the way of women using axes and lighting fires!
First Ever women of the woods day in Dorking, August 17th 2014: foraging, intrepid feasting and ingenious creativity.
Joined by 9 London-dwellers escaping the city for a day, we foraged, cooked, created, chatted, wandered and just enjoyed being in the woods. I learned so much from the ingenuity and enthusiasm of the group; never have I seen an outdoor toilet-tipi created with such beautiful attention to detail (accessibility handles, pathway and fancy string-work!?) or a meal of such gastronomic ambition cooked over a fire! We ate moroccan stew, poppy and nigella seed dampers with baba ganoush (from fire roasted aubergines) and cardamon and blackberry cupcakes baked inside oranges. We spent the rest of the day making useful things, beautiful things and discovering strange wood spirits emerging out of the trees. Bliss!